Jaz Lai email marketing a scam?
"You can easily start an online business and earn $100k/year in only 3 short days!"-Jaz Lai
With that kind of email title from Jaz Lai, how not to be tempted to sign up?! So I went to the preview and see for myself if his program can really do what they say. And also compare it to courses offered by other internet guru like Fabian Lim and Pam Sieow.
In a nutshell, the program that they are selling is teaching you how to collect as many emails as possible and then use different email marketing (means writing sales copy) to sell your new found leads stuff.
See picture below for the process overview: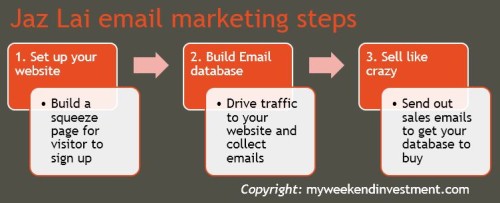 His 3 part process
First up, the preview was conducted by a claimed school drop out, Lionel Tan. So that was a disappointment as I didn't get to see the real Sifu in action. No matter.. I am here to see if  I can retire in 5 years with his system. So here goes..
Step 1: Set up site
In the 3 part process, step 1 is the easiest. He say the course will provide the student many different squeeze page template to use. But if you Google this, there are actually many 3rd party squeeze page solution providers that offer free web site creation or free trials. So no big deal here.
Step 2: Collect emails
Step 2 to me is the hardest. There is actually a big "traffic generation" industry out there where there are tons of people teaching consumers and companies how to get more traffic to their site. Plus, getting traffic to a site is one thing, to get the correct of segment of buyers for your product is a totally different story. Anyway, Lionel provides some insights about their strategies:
1)  Article marketing: writing of articles about your product and refer them to your squeeze page.  If you don't know how to write you can pay about $5 for someone else to write for you.
2) Post them in various article directories like EzineArticles.com. When I heard this my jaw dropped. This may be very good 2-3 years ago, but with the recent Google search algorithm update this method of getting traffic will actually affect your site ranking (ie harder for people to find your site) . Not convinced? Listen to a Google representative talk about this below.

3) Convert your article into other formats: Turn your text articles to video or audio podcast and load them up to the various sites. Same tactics as text articles just different formats. He mentioned there are several tools out there that can auto convert. But I find many of them of low quality.
Step 3 "Push Button Profit"
Basically it is an auto email sending and response program that helps you deliver your email sales pitch to your contact list. Lionel claims that Jaz Lai have accumulated hundreds (576+) of email template that student can leverage and re-use. So don't have to think too much. But how do you know which one to use to be most effective?
Show me the money
This is the part I am waiting for. How to get $100K/yr?  Well, one of the example mentioned was a student that sold leads to internal design firms! Not successfully selling online. Meaning he uses step 1 and 2 to collect leads and sell them to companies with products with high margins. In that case, it was $2k for 80 leads monthly. So if he manage to find 5 internal design companies, he will be able to get $100k/yr!
So how much to get started? There 2 packages on offer. One is personal coaching (one to one and can drop by their office anytime)  and the other is normal class. The cost of the 3 days group course is around $2k ish.
Conclusion
I think his system could help one get $100k/yr but it takes more than just his course. For one, the student will need to work pretty hard to test and re-test what kind of email works for what kind of products. And with the new Google search algorithm change, it will be harder and and harder to get leads using his strategy mentioned. Also I believe to earn top dollars, you would need to find your own Kangtao from offline companies (like internal design firms) who are willing to pay for leads.  In the end, there is no free lunch, so to get top dollars, you need to put in top efforts.
Disclaimer: I do not advocate you to attend or not attend any of the course mentioned. I am just sharing my opinion and am not rewarded in anyway for this article hor.