Bottled Wealth Holdings and Australian Wine Index in trouble…again!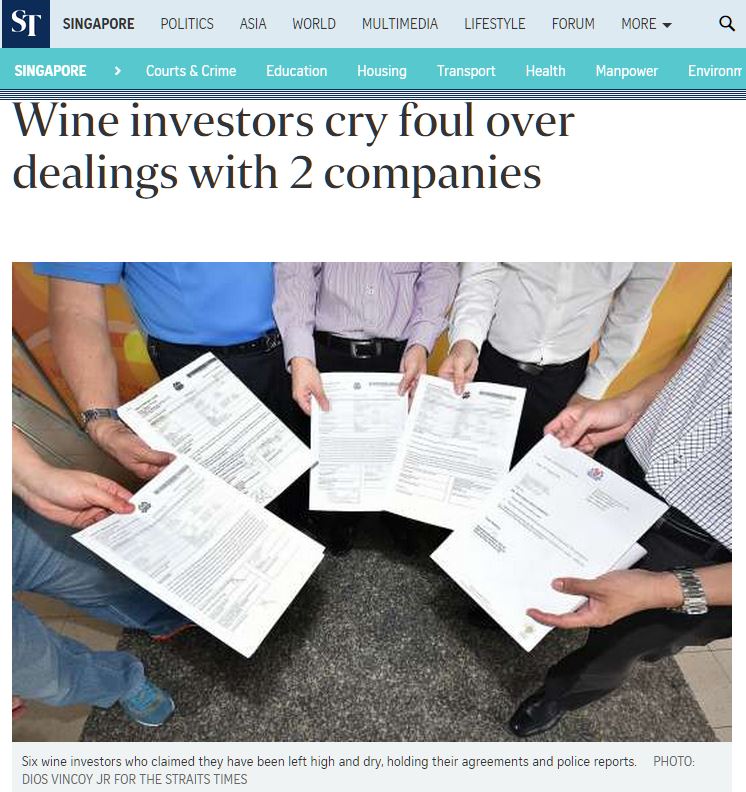 You have been warned
Many of you have commented on the my earlier article about Wine Investment with Bottled Wealth Holdings and Australian Wine Index. I have tried to warn many about the shady history of these 2 companies and urge many to think 2-3 times before putting any money into it. I have also provide link to other 3rd party site that talks about investors not able to get their money back.
In the limelight
Well, Bottled Wealth Holding and Australian Wine Index is in the limelight again. This time, they were reported in local news paper when at least 12 investors filed a police report when they cannot get their money back.  It was reported that they have invested a total of around $500k! That works out an average of $42K per person.
The thing that I don't understand is why didn't they do some background check before investing such a large sum of money? They could have easily Googled the company name and find tons of not-so-good information on them.  It would not have taken them 3 mins to do that. Plus, both Bottled Wealth Holdings and Australian Wine Index was actually on MAS
That was what one of my reader did when he was invited to the session. He basically showed them my article and walked away from the deal.
So what should be done better?
I think there are a few areas we can do better:
Education

We need to constantly remind our friends and close ones to be more guarded on investment products that promise very high return in a very short time. Especially in non-traditional investment type.
Continue to educate our selves on financial knowledge. Take the average stock return for local index (STI ETF- See results here) at about 7~8% a year as your benchmark. So if there are investment product that gives you higher yield than that,  question it more.

MAS Investors alert list

MAS really need do 2 things. One is to update the alert list more frequently. They only included both companies last August when complains have started since 10 years ago.  In fact, this is not the first time it was reported in the papers. At about one year ago, Straits Times also published an article about investors making a police report. you can read the Sep 2014 report here.
MAS also need increase the awareness of the list. Frankly, the link is not easy to find and to my surprise, there a lot of companies on that list! So maybe they can work with top search engine to rank high on the key words of "Scam Singapore"?
Are there any other suggestion that you have to help minimize investors getting con? Love to hear from you.